A supernumerary nipple (also known as a third nipple, accessory nipple, polythelia or polymastia) is an additional nipple occurring in mammals, including humans. Often mistaken for moles, supernumerary nipples are diagnosed at a rate of 2% in women, lower in men. The nipples appear along the two vertical "milk lines", which start in the armpit on each side, run down through the typical nipples and end at the groin. They are classified into eight levels of completeness from a simple patch of hair to a milk-bearing breast in miniature. Polythelia refers to the presence of an additional nipple alone while polymastia denotes the much rarer presence of additional mammary glands.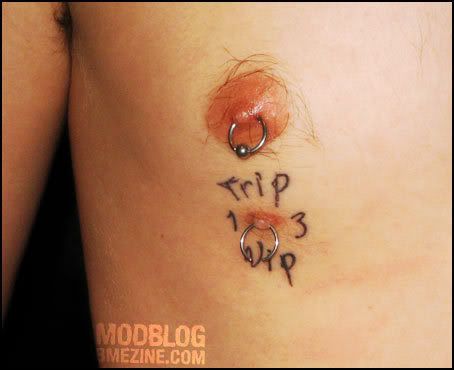 Notable examples
* Famous Nazi Rudolf Hess
* Actor and singer Mark Wahlberg has a supernumerary nipple below his normal left nipple. It was, however, airbrushed out of the Calvin Klein underwear ads in which Wahlberg modeled.
* The model Masuimi Max has four nipples. She frequently models nude, revealing the supernumary nipples are visible as small, symmetrical freckle-like marks between her breasts and armpits, along the milk line.
* Anne Boleyn, second wife to Henry VIII of England, and mother of Elizabeth I, may have had a third nipple or even a third breast.
* Carrie Underwood said in her first American Idol audition, when Paula wasn't present, that she had a third nipple but had it removed even though it just looked like a mole.
* Lily Allen has a third nipple